CASE STUDY: Build Your Hospital Cart in 3D
Waterloo Healthcare has been manufacturing steel and aluminum procedure carts for hospitals for over 50 years.
The company is headquartered in Phoenix, Arizona, providing specially designed hospital carts with a wide range of different options.
The online 3D configurator is for hospital storage systems, which come in many options. The basic requirements were to have an online tool that allows customers to configure their products, to be able to download the specifications and images of the configured products.
Some of the key features were that users could add / remove / rearrange drawers, generate a PDF document with product information, and receive inquiries via email. Also, users can change colors, frame type and locking system.
The company also wanted a 3D configurator for internal customer service staff so that they could provide custom renderings to send quotes to customers.
We implemented the basic modules found in the Simplio3D SEL library, in addition we enabled real-time 3D visualization, PDF generator, ability to create snapshots for the images and some customizations to allow the ability to change the type of cart, color and locking system, but also users to drag and rearrange the drawers as desired.
We used the CAD files provided by the client to process and export them in .gltf format for the best rendering performance.
The user interface was created from scratch taking into account client suggestions.
Finally, we triggered emails from the configurator connecting to an email web service using the API.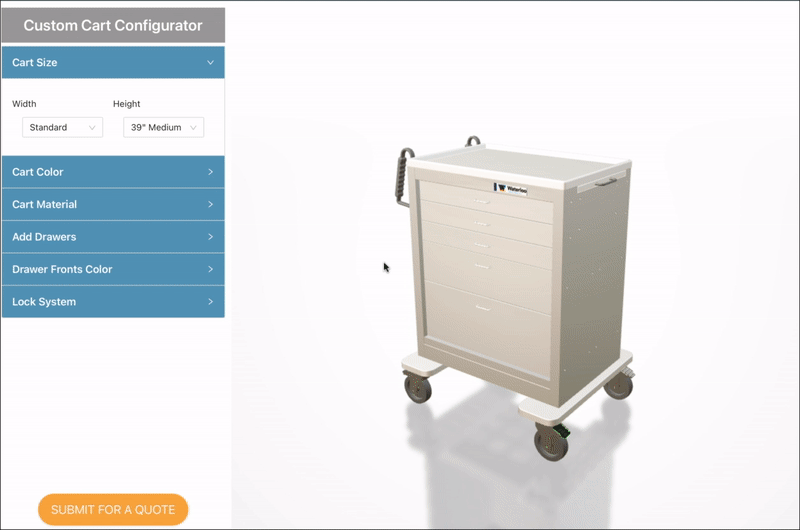 The new online configuration tool allows the customers to virtually create the desired procedure cart platform, save the image, generate a PDF document and submit it for a formal quote, all directly from the website.
Waterloo Healthcare has a competitive advantage, giving customers an easy way to create a preliminary proposal in minutes, minimizing back and forth communication and sales staff have a quick tool to work with during inquiries.
"We got great feedback thanks to this new tool for our customers, because it allows us to send them a complete quote."
John Bergmann
President The Bergmann Group