Best Practices in Implementing Furniture Configurator Software
Furniture companies can implement product configuration software in unlimited ways, but here are the most common implementations that lead to success.
Prior to any implementation, companies must create or request a proposal for the 3D furniture product configurator, which can be either embedded directly in a webpage or integrated with an e-commerce platform already in use. Advanced configurators will have a backend and intranet access for staff and distributors network.
Most manufacturers and retailers want a web-based responsive 3D furniture configurator software with the possibility for users to select the type, size, colors, fabrics, legs, handles, drawer options for cupboards and various restrictions. The company needs to know in advance if the configurator will allow the user to input any dimension (free form) or increment size, for example for a cupboard/cabinet and any restriction that may apply in relation with the other options available. Ability for users to rotate, zoom in and out the product in 3D view. Very important for the configurator to support Android tablets and iPads, being ready for the touch screen.
Each order that comes from the configurator is pushed to an ecommerce checkout page for finalizing payments or using a quote request form and trigger emails.
The best solution for the implementation of a 3D furniture configurator is using the SEL platform. This is a customized version we have using prebuilt key block elements and integration with ecommerce platforms/ERPs using API. For advanced configurators Virtual Reality and Augmented Reality can be implemented. Using SEL platform will easily allow the companies to scale the configurator as the business grows.
A typical installation is embedded in a web page specially created to host the iFrames. With the SEL platform, we can enable key block elements to deploy the configurator, such as: parameters block, 3D viewport and ordering/quote request modules. After customization, the key block elements take on the same theme style as the website. Website visitors will never see the configurator as a separate tool.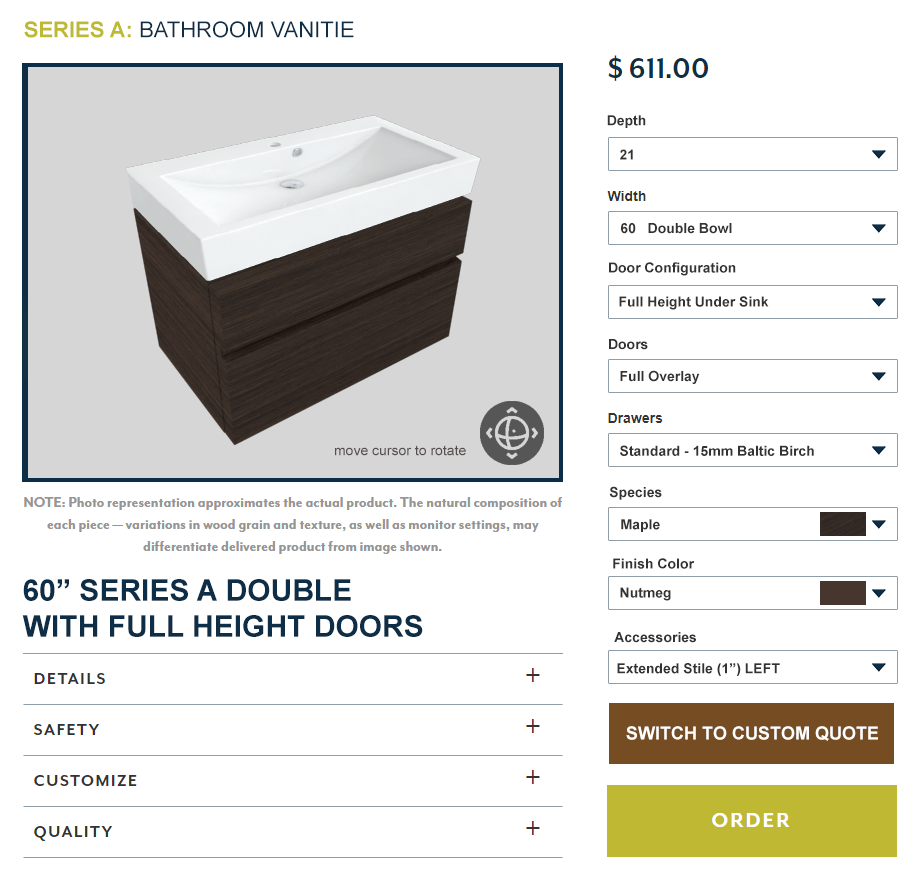 Furniture manufacturing and retailer companies will find an increase in conversion rate and enhanced order efficiency. Potential customers are more likely to buy if they can see and interact with the 3D product directly.
The company will be perceived as advanced using such an application and opening up more avenues in marketing to promote the products.
You can always contact us for a complete free consultation and see if Simplio3D can help your business.